Poise Hourglass Pads Free Sample
Sponsored Links

Alert, this post contains not only a free sample of Poise Hourglass Pads but 2 guys outtake on feminine products.  Not only does Scott tie these to his keys (to prevent people from borrowing his Smart Car) but he's got these handy in his man bag for a woman in trouble. He likes to consider himself a super hero. Some would call him a super creep, you be the judge.
In fact here is the belt he uses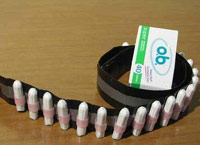 Want to get the poise free sample sign up below!
Related Free Sample Posts
New Link: Free Sample Hourglass Pads or Liners by Poise
Still Available: Free Sample Hourglass Pads or Liners by Poise
Working Again: Free Feminine Sample Hourglass Pads or Liners by Poise
Incoming search terms:
poise pads for men
pads free samples
free sample poise pads for men